Eight years in a row Best Managed Company!
May 2019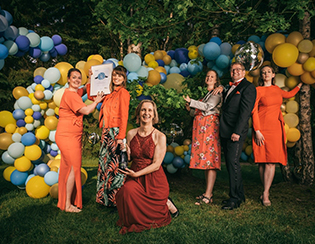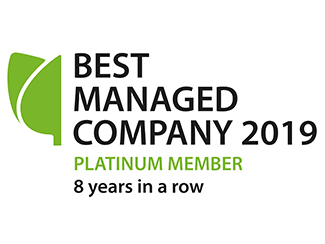 "We had to wait a little longer this time (in the past, the announcement was made in February), but we are very honoured that we may call ourselves Best Managed company for another year. It feels very special to be one of the seven Platinum Members, which means that we have been awarded with the title for 7 years or more in a row. It is always exciting whether you are selected once again, based on the strategic optimizations that were implemented in the past year."
As the director of the Elka Pieterman Group, Ilse Van Hove explains the benefits of the Best Managed Company programme. "Within the Best Managed Company programme, our business operations are carefully examined every year. It focusses on 4 different pillars: strategy and policies, the company and its processes and on management and control. Since we have been taking part in the programme for eight years, we go deeper into the development of our company every time. The feedback that we receive from Deloitte offers new challenges every year.
Programme leader Patrick van Min from Deloitte explains the challenges for companies nowadays: "Lots of companies struggle on how to innovate in the field of IT. Should they automate the complete logistic chain or not? And what are the benefits? It is definitely important to consider certain topics, but not all organisations require to be completely IT driven."
Ilse completes: "We are very aware of all the challenges in the IT field. Connecting our systems to the different cash register systems in the industry, is something that we have been doing for a while now. We are currently taking the next step by providing data feed connections for the (web)shops of our customers. If we add a brand new product to our system, it can be online in our clients web shops within an hour. We often get the remark that we really are at the forefront of this!"
Patrick continues: "Finding the right employees is another challenge that many organisations face. The culture within a company can make an important contribution to this. The culture within the group of Best Managed Companies that we focus on is mostly very positive. People feel strongly connected with the company they work for, because the company specifically pays attention to their staff. Last year, as part of the BMC programme, I visited a company that uses photos of their employees on all communication. By doing so they show how important their people are."
Ilse can also confirm this: "Every day at Elka Pieterman we are faced with the challenge of adapting to new developments that follow each other quickly. That is why we increasingly work with multidisciplinary teams internally. This means that employees with different professional knowledge across departments work together. This also offers opportunities for our employees, because they can develop themselves more broadly and face more different aspects of our industry. For us as a company there is broader support among ourselves, we learn quicker and we are more productive."
View all news