Extremely proud of another year of Best Managed Company recognition!
March 2018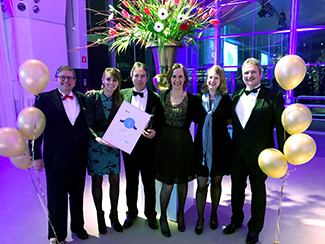 Best Managed Companies has been in the Netherlands for 10 years this year. A nice milestone and a good time to look back. That is why this years' theme is Raising the bar since 2007. In other words, BMC companies have been raising the bar every year since 2007.
We have been talking to Adrie van Eersel, managing director of Menz & Könecke GmbH, to ask him how he has experienced participation in past years.
What have you learned in recent years by participating in the program?
"This year we have been participating in the BMC program for the eighth time. Every year again it has been a challenge to develop even further. Taking the right steps to do it better. The cooperation with Deloitte has helped us to score better on the pillars of the Business Maturity Model that has been developed in collaboration with Utrecht University. "
Business Maturity Model
The BMM identifies five pillars on which a company is based: Strategy & Policy, Organization & Processes, Management & Control, Information Technology and People & Culture. Within these pillars four levels of development are possible, which indicate the degree of development of the organization within the relevant pillar.
In balance
Companies in which the five pillars are in balance perform on average 30 percent better than the market. Organizations that are in balance, benefit from synergies, make switches easier and have less to do with energy loss.
Quality mark
Adrie explains "Companies that take part in the BMC competition know that every year the progress that has been made will be compared to the previous year. So you will really have to show progress and continuity every year."
"We see the achievement of the BMC award as a quality mark. Compare it with the 'stars' for a Michelin restaurant. The coaches of Deloitte test us and ultimately decide whether we can keep our predicate of "Best Managed Company" for another year. What is most important to us is that we demonstrate that we are a competent and reliable partner for our customers, suppliers and employees and that we offer continuity."
Which challenges did Menz & Könecke overcome in the past 8 years?
"During the first few years of participation, we paid special attention to the development of a well thought-out and long-term strategy. The challenge was to be able to look at the future at the beginning of the economic crisis. In 25 years we also want to play an active role in the accessories and spare parts business."
"In recent years we have invested a lot in our employees. Every day, they are the basis of our organization and are very important in the development of our company. This means the recruitment of the right people, but also the training and education of existing staff. New, for example, was the start-up of multidisciplinary teams. People from different fields of expertise work together in this new setup. The big advantage is that these teams come up with creative solutions from different angles."
"We have also improved or further developed many things in the area of IT. An improved webshop, e-mailings, EDI, cash register system links, data feeds, etc. contribute to an even better communication and connection with our customers."
And how do you see the future of Menz & Könecke?
Adrie laughs and continues "When we talk about the future within our company, we often refer to B2B4C. We are looking beyond our wholesale role for the retail. Together with our customers and suppliers we are searching for solutions for the end consumer. Working closely with all parties is essential here."
"The economy is picking up even further. Consumer spending is increasing. Our clear positioning, distinct added values and in-depth knowledge of customers and products give us good prospects. We therefore look at the future with great confidence. We are looking forward to doing our utmost for our customers, suppliers and employees again this year."
View all news